There. I said it. I think Taylor Swift is 'the bomb'. Yes her music is corny and a bit silly, and yes, the girl does love her sparkles a littttle too much...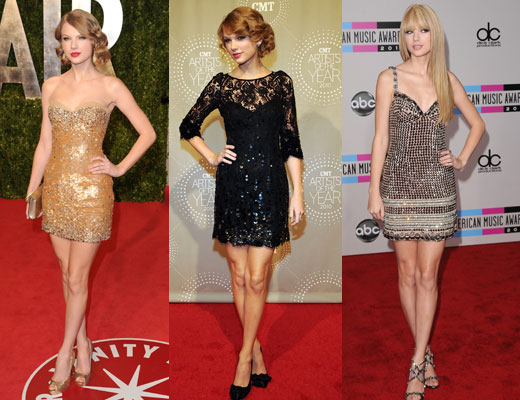 (ahem)
But seriously, her 'off-duty' style is to DIE for. There's a real simplicity and elegance to her look, and it's clean-cut whilst still being age-appropriate. Taylor (TayTay as I fondly refered to her when I'm having a good old singalong of Band Hero), you're too cute.
Whenever she pops up on
Red Carpet Fashion Awards
(a favourite read of mine), I'm always impressed with how she channels old Hollywood glamour - I love her Marcel waves - whilst remaining true to her teenage, country, sparkles loving self. But the look that has me going gaga at the moment?
Seriously Taylor, I DIE. It's so simple yet so heavenly. From the pleated skirt to the colourful satchel, the sassy red lips and the simple pearl earrings, it's just too perfect. Girl sure knows how to colour block. Swoooooon.
What do you think, are you swooning too or do you think she's overrated? Do you get sick of her sparkly red carpet dresses?
All images via Google image search