This week has been seriously killer. Hubby has been working some serious over time, and him being tired and late home hasn't exactly made for a fun atmosphere - I get a bit sulky if I'm left on my own too much and he gets a bit sulky if he doesn't get enough sleep... BUT, we're off out into Leeds tonight to see friends and relax and forget about work. We're going to see Los Campesinos! play at the Cockpit, not my favourite band ever, but Hubby's, and several of our friends, so I'm taking one for the team. We're staying in Harrogate with a friend tonight, and then back in to Leeds tomorrow for a family lunch which I'm excited for. And then maybe a spot of Christmas shopping, which I am not excited for. My thinking is if we start early enough it might not be that hellish? But I always loath shopping in Leeds so I imagine it will be fairly traumatic.
In other news, yesterday I was diagnosed with eczema on my hands - hooray! I have no idea what's causing it but I've never had a problem with it before. It's possibly my job, and the stress of it ending, are making it worse, so that may or may not get better after today. Until then, this has become my new BFF...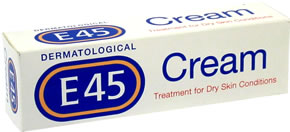 Does anyone else suffer with it? It's pretty unpleasant :( Trying my best not to scratch but it's really hard! Does anyone have any tips for dealing with it? Things to avoid etc. Don't know a lot about it yet so anything would be helpful really :)
Fingers crossed it clears up ASAP.